Disaster Design Principles
disasterdesignprinciples.com
is a library that provides guidance and resources for designing in the context of disasters.
The principles are exemplified and research-backed and
act as a starting point or as a user-centered checklist for teams working on their own people facing systems.
Overview of the 16 design principles organized under four pillars on the home page
Principle page:
Make it multilingual
Principle page:
Mythbusting
Problem
The research on people's behaviours in disasters was scattered and
the best design practices were not shared efficiently to the municipalities and teams in charge.
This is a central resource to solve this problem
Impact
This project won the
Health Design Award for Innovation
and will be part of the
Global Grad Show
in Dubai, showcasing social impact innovation from graduate students across the world.
The tool has been presented to and
approved by the British Columbia government and is moving towards becoming an official resource for the province's municipalities.
This library is currently online and accessible to any team working on the topic.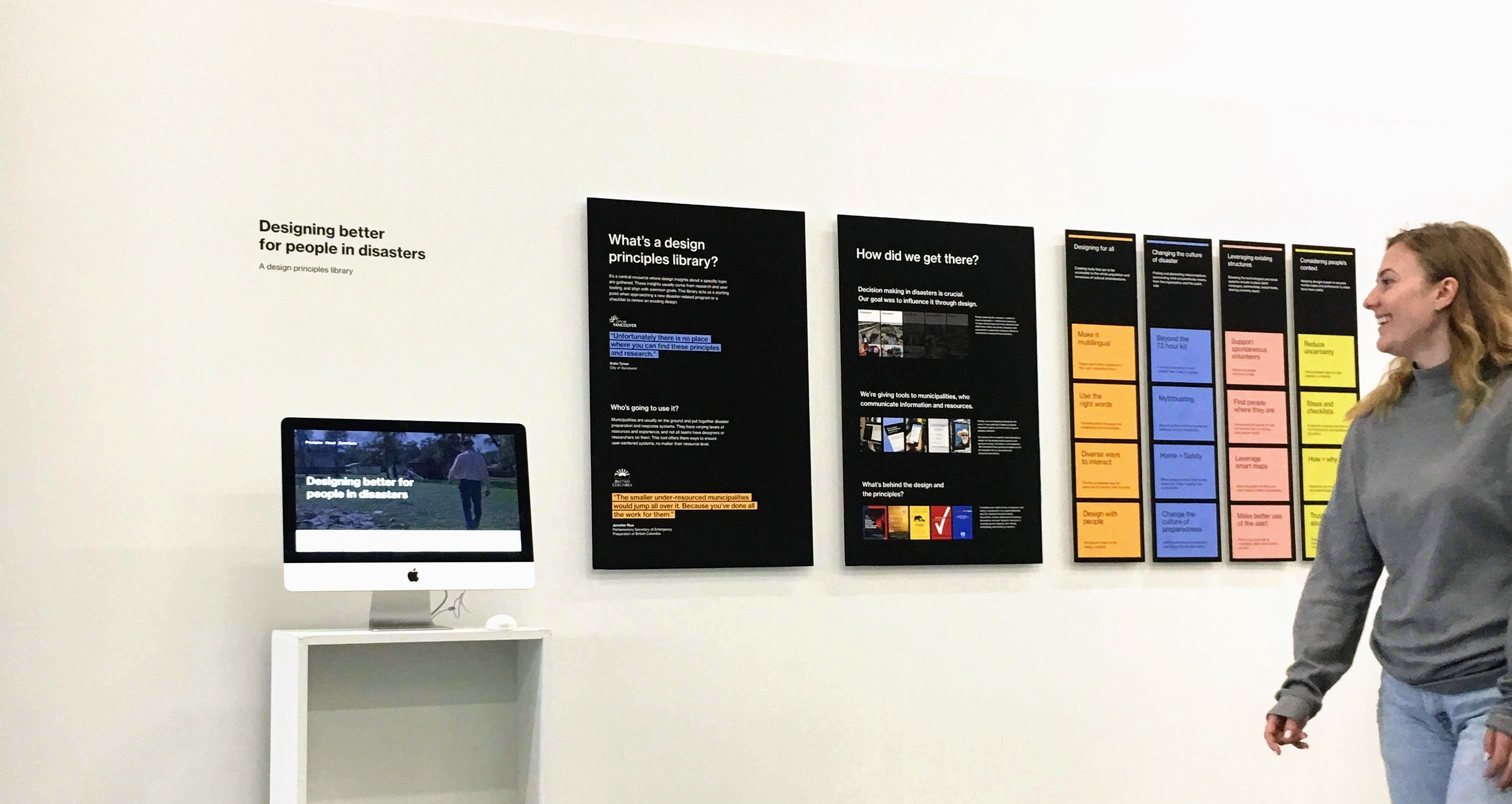 "UX is a team sport"
The project was developped over 8 months, in collaboration with interaction designers
Amelia Koster
and
Brittany Williams
, working with the province.
Role
I lead the
strategic shifts
through whiteboard exercises, brainstormings, and critique. I took charge of the
project management and lead our design sprints.
All three of us collaborated on the
UI design
using Figma. The
research and testing
were also collaborative. Graphic design and art direction were done by Amelia Koster and Brittany Williams.
Process
We initially designed
our own multi touchpoints tool that would positively influence people's behaviours in disasters.
View
UI iterations
What's of value here?
We realized what was
most valuable and scalable was the research and testing guiding our design.
Abstract UI
We simplified our designs to make the most relevant feature salient, through blockframing.
Organizing the principles
We organized insights into pillars with principles and their illustrating examples and backing research.